DUE TO IMPACT OF HURRICANE IRMA – We will only be available WEEKENDS for RENTALS until 11/1/2017. You can still schedule ONLINE. We apologize for the inconvenience. Thank you!
In addition to our Windsurfing Rentals, we now offer kayaks, sailboats and stand-up paddling rentals, too! Call for special rates for larger groups!
Calema offers Windsurfing gear for beginner to advanced sailors. We feature Fanatick, Goya and KONA boards, from longboards to widestyle to short boards. Sails from Simmer, Goya and Aerotech range from 1.5 (for kids) up to 10.0. We will rig up your equipment for you right on the shoreline and you can change your equipment as the weather changes for no additional fee. *All renters must have at least basic skills to rent. Lessons are available for those with less than basic skills (by appointment).
Beginner Board
Complete with Rig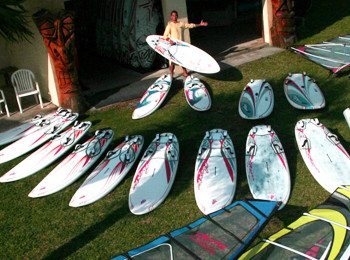 Calema has Fanatic Vipers and KONA Hula's (designed by Tinho) available with user friendly sails up to 6.5. Choose 3hrs or a Full Day of Windsurfing and pick the time you want to start. Morning winds are ideal for those just learning. Learn more
Performance Board
Complete with Rig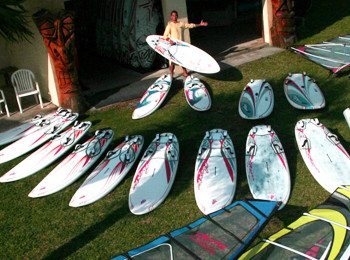 Calema's Performance Equipment ranges from KONA One boards with centerboards to Fanatic Widestyle and short boards. Boards range from 86 – 145 liters for shortboards and sails are available up to 10.0. Choose 3hrs or a Full day. Learn more
Racing Board
Complete with Rig