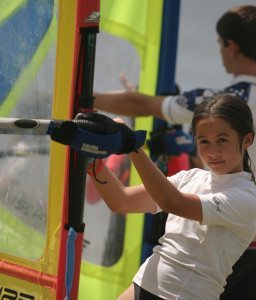 Calema teaches all ages year round. But the summer is a perfect time to learn, especially if you are a kid! That's the time for Summer Kid's Camps! A typical day at Calema is lighter breezes in the morning, then just after noon, the wind picks up. We schedule our camps to take advantage of the predictable conditions – kayaking and beginner windsurfers and sailors in the morning then as the wind builds – the watersports camps go sailing and the more advanced windsurfing kids hit the water. The energy can't be beat at Kelly Park on a Summer Day! **When booking online – only the FIRST day of any camp session shows on the booking calendar but you are signing up for the full camp!
Kids Windsurfing Camps
Windsurfing camps are offered 3 days/week (M,W,F) from 9am-12pm for beginners ages 8-17. Afternoon camps from 1pm-4pm are for experienced campers ages 11-17. Campers will be able to windsurf on their own with basic skills by the end of the week as well as safety skills and self-rescue techniques. Our fully certified staff is ready to introduce your children to a lifetime of fun! Windsurfing camps are $150/week.
Kids Windsurfing Camps 2017
Kids Watersports Camps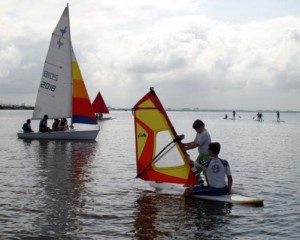 Watersports Camps were started just about 7 years ago, but have grown to be our most popular camp. It is a full week camp – M,T,W,Th,F from 9am-3pm (with extended hours possible) and includes Windsurfing, Kayaking, Sailing and Stand-Up Paddling (SUP) as well as wildlife encounters and river exploration. Kids from 10-17 are welcome to attend and no previous skill in any of the sports is necessary. In addition to learning to windsurf and sail – we take a kayak/SUP trip to nearby islands for a cookout. Cost is $350/week!
Kids Watersports Camps 2017 (Ages 10 – 17)
All Watersport Camps require a Lifejacket – Kids can bring their own or use ours.
Kids Kayaking/SUP Camps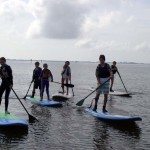 Kayak and NEW Stand-Up Paddle (SUP) Camps are offered 2 day/week (T,TH) from 9am-12pm for kids ages 10-17. Campers will learn the basic strokes and safety of kayaking and SUP and then we will tour the river as a group and explore wildlife both above and below the water – so bring along snorkel gear! Registration is limited to 14 campers/week so sign up early. Kayak camps are $95/week and include all equipment and our island cookout.
Kayaking/SUP Camps 2017 (Ages 10 – 17)
Kids Sailing Camps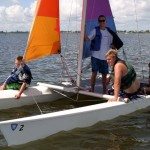 Sailing Camps are offered 3 day/week (M,W,F) from 9am-12pm for kids ages 10-17.
Campers will learn the basics of sailing and will experience both monohull and multihull boats hands-on. Working in both small groups and as a "crew" on a larger boat – they will learn both self-reliance and teamwork as they glide over the Banana River while learning everything from tacking to jibing and even righting a capsized boat. Limited to only 8 campers/week so sign up early. Sailing camps are $175/week. Can be combined with other Calema Camps.
Sailing Camps 2017 (Ages 10 – 17)
USA Junior Olympic Windsurfing Festival
The USA Junior Olympic Windsurfing Festival is being held – Saturday, June 24th. It is part of a group of events supported by US Sailing and the Olympic Committee in an effort to introduce more children to Sailing and Windsurfing – Olympic Sports. The Calema event – now in its 18th year – features WINDSURFING! We offer a "taste of windsurfing" to kids ages 8-17 – where no prior experience is required. It is a 'mini-lesson' on the basics of windsurfing with the hope of inspiring them to want to learn more as they grow. Registration is required for both the racing events AND the "Taste of Windsurfing".
We also offer racing – for those children that can already windsurf. Racers have a chance to win Junior Olympic Medals – Gold, Silver and Bronze in various skill categories. Those children who have had even just one summer camp (or other previous experience) can compete. Cost is only $25/racer and includes lunch and all the windsurfing equipment for use to race. Ages 8-17.
On the land – we offer a chance to build your own mini-boat – with the only propulsion being the wind. Boats will race down special rain gutters and the only rule is that the boat must fit in the racing tubes and be propelled by 'natural' wind – rather than help from the racers…. Open to all ages…. FREE to participate.
SCHEDULE: Check in: 8:15-8:55am // FREE "Taste of Windsurfing": 9:30-11am // RACING: Begins 11:30am // ALL DAY – Build a Boat – land activities for all ages.
Calema Junior Team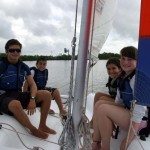 Junior Team is our year-round windsurfing/sailing/SUP/Kayak opportunity for youth ages 11+ to continue in watersports. Emphasis of team is on Windsurfing and Sailing, but on those no wind days, team members can kayak and SUP, too! We set apart 2 times each week during the school year – currently Wednesday (with early release from school) & Saturday afternoons – for a supervised practice/rental session. All youth that reach the afternoon camp ability are invited to join, and those that were only in the morning camps can get some additional instruction to bring them up to the minimum team level.
How About A Custom Camp For Your Group?
Anytime during the year, we would love to put together a "camp" for any large group — for a birthday, homeschool group, scouts, youth group or even a group of "kids at heart." We can do a windsurfing, sailing, SUP, kayak or a combination of all that we offer. Just drop us an email or give us a call for more info!