Windsurfing, Sailing & Stand-Up Paddling Lessons
We offer private and small group instruction year round at all levels in Windsurfing, Stand-Up Paddling and Sailing. We also offer group clinics and camps as well as rentals. Our instructors are all US Sailing certified headed by Tinho Dornellas, one of only two US Sailing Master Instructors in the US. Instruction at Calema Windsurfing & Watersports is not just "part" of what we do, it is the foundation of our business. We guarantee your satisfaction.
Please book online (minimum 24hrs in advance – during Summer months) or call (if <24hrs) to schedule instruction in advance to insure we can accommodate your dates.
Private and Small Group Instruction
BEGINNER WINDSURFING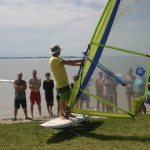 Your Beginner lesson will include work on a simulator, buoyed board and then free-sailing with an instructor coaching you along the way.
The 3hr lesson – private or group – will guide you step by step from uphauling, basic position, stance, sailing across the wind, direction, and basic turns as well as safety techniques. 3HR lessons include a FREE 3hr rental – so you can come back and practice! Start today for a lifetime of fun.
Our per hour instruction is for those that may just need a 'refresher' of past skills or want to work on one skill such as a tack or basic jibe.
INTERMEDIATE/ADVANCED WINDSURFING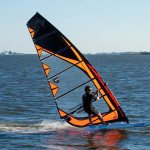 If you want to work on Jibing, Harness technique, Getting in the footstraps, beach starts or waterstarts or just need some guidance to sail with less effort in more wind, then Calema is ready to take you to the next level. You can schedule a single hour or multiple hours. Tinho, our head instructor, who teaches the intermediate and advanced skills, will watch you windsurf and see what needs to be fine-tuned – then move toward those elusive skills.
*All instruction includes the use of equipment. For practice after a lesson, you will want to rent for additional time.
STAND-UP PADDLEBOARD (SUP) INSTRUCTION

Our SUP – Stand-Up Paddleboard instruction is available on flat water (right off Kelly Park) or can be scheduled for surf instruction.Calema recommends that everyone start with flat water instruction first to learn proper stance, balance and stroke techniques. Most people that do stand-up paddling stay on flat water – where you can choose to go long distances, use SUP for cardio or yoga or just enjoy the scenery for leisurely paddling.
If your dream is to ride waves in the ocean, then you start with flat water training, then move to an ocean lesson to learn launching in surf, approaching waves and timing to catch waves.
SAILING – MONOHULL OR MULTIHULL – INSTRUCTION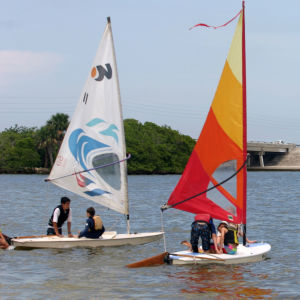 Our Sunfish/Force 5 boats are ideal for a first time sailor as they are a single sail system and are responsive and predictable boats for one or two people. We recommend the Sunfish/Force 5 boat for all lessons with younger sailors and those that hope to rent after just one or two lessons.
Our Vaurien is a monohull with a two-sail setup. It is a bit larger and can accommodate larger sailors or 2 people wanting to take a lesson together. Most people will require more than one 2hr lesson to be able to have competency to rent the Vaurien.
Our Catamarans are the highest level sailing boat. They are multi-hull & 2 sail system boats that allow for small groups to take a lesson together. Prior sailing experience is recommended, but if you want to enjoy a day on a catamaran with some instruction and some cruising – our Calema staff will be happy to guide you through your first sailing experience on our fastest boats – the Catamarans!
Beginner Windsurfing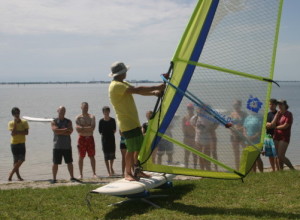 3-Hour Small Group:
$135/person
Inter./Adv. Windsurfing
Beginner SUP
Surf in Ocean
2 Hours: $140
Beginner Sailing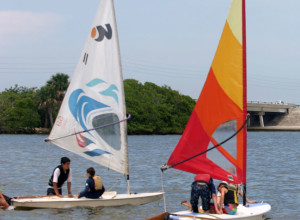 Sunfish/Force 5
2 Hours: $200
Vaurien Monohull
2 Hours: $200
Prindle 18′ Catamaran
2 Hours: $200
Windsurfing Performance and Beginner Clinics
Calema began teaching Performance Clinics in Windsurfing in the late 80′s. Performance Windsurfing Clinics allow for in-depth instruction taught over two or three days and guided practice in a step by step approach. Clinics are designed to teach technique so you can windsurf in higher winds with less effort. For complete description of clinics – please visit our Performance Windsurfing Clinics page. We also offer two and three day Beginner Windsurfing Clinics.
**Performance clinic participants should have at least basic windsurfing skills. No prior experience is necessary for beginner clinics.
3-Day Beginner Clinic
3-Day Performance Clinic
2-Day Beginner Clinic
2-Day Performance Clinic
Summer Kids Camps
We teach kids and adults year round, but when the summer rolls around, we begin our Kids Summer Camp Season. Kids can learn Windsurfing, Sailing, Kayaking and (SUP) Stand-Up Paddling in various camp formats.
For full camp descriptions and dates visit our "For Kids" page. Windsurfing camps are for ages 8-17 – all skill levels. All other Kid's camps are for ages 10-17.
Watersports Camp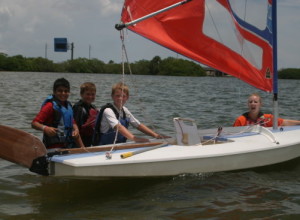 M,T,W,TH,F
9 a.m.–3 p.m.
$350
Windsurfing Camp
M, W, F
9-12 Beginner
1-4 Advanced
$150
Sailing Camp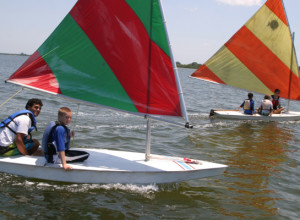 M, W, F
9 a.m. – 12 p.m.
$175
Kayak/SUP Camp