Calema offers both single and tandem kayaks for the novice and recreational enthusiast. Our single kayaks are very stable and easy to maneuver even for children. We use them in our kid's camps but they will easily support a 300lb+ enthusiast. Our sit on top tandems and quads allow for a family with smaller children to go together.
Self-Guided Kayaking Tours
Unlike most kayaking outfits in the area, Calema allows you to go at your own pace for as little or as much time as you choose. We offer kayak rentals from 1hr to all day. There is no need to load kayaks as you can launch right from the shore at Kelly Park. To the south, there are many canals that allow for protected viewing of dolphins and manatees. To the North, is the Barge Canal, which connects to the Indian River and Sykes Creek or the National Wildlife Refuge which is restricted form motorized craft – so great for fishing. There are also many islands to explore if you want to take along a picnic and snorkeling gear.
Kayaking Tours and Camps – Guided or Self-Guided
If you prefer to have someone with you on your kayaking adventure, we can arrange for a kayak "guide" (advance reservations required). In the summer, we offer Kid's Kayaking Camps every week, or they can enjoy Windsurfing, Sailing and SUP with Kayaking in our Watersports Camps. Whether you are on your own or with a large group – come and enjoy the beautiful waterways of Florida with no sounds but the water lapping on the side of your craft. We offer Limited Dates for Bioluminescence Adventures – as the 'GLOW' is most visible near the 'new moon' – when there is very little ambient light. Book early and explore!
Sunrise Kayak/SUP Adventure
Bioluminescence Adventure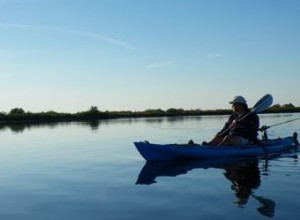 Island Kayak/SUP Tour
Single Kayak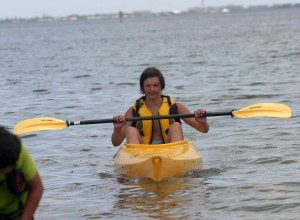 Tandem Kayak
Kids Kayak/SUP Camp
Tues, Thurs
9 a.m.–12 p.m.
$95