The Roots of Calema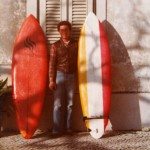 Calema Windsurfing traces its roots to the mid seventies, when Tinho Dornellas began working as a fiberglass composites fabricator in the Portuguese navy. A long time surfer, Tinho spent his spare time shaping kayaks, surf boards and the first surf ski with John Byde, (who was the son of the man who now holds the patent). Tinho's early surfboards all bear the original Calema "3 wave" emblem. A few years later in 1978, Tinho tried windsurfing for the first time and was hooked. He moved to Brazil and eventually to Mexico working for Club Med. In June of 1981, Susie traveled to Cancun and Tinho was her windsurfing instructor … the rest IS the history of Calema.
This is the Place
In late 1983, Tinho and Susie drove from Virginia to Florida, looking for the ideal place for their dream and future family home. As they crossed over the Indian River, saw the Banana River and the ocean of Cape Canaveral and Cocoa Beach – there was no more need to search. In March of 1984, they opened Calema Boardsailing (which later became Calema Windsurfing & Watersports) on the 520 Cswy. They began with a year to year contract with the Parks dept. teaching at various parks, then in 1998 (after two years of negotiations) were able to finance and build their current facilities at Kelly Park. In 2014 – Calema was officially recognized for their contribution to Brevard County for 30 years in business.
The Heart of Calema
From the beginning of Calema Windsurfing, the emphasis was on instruction and Tinho employed his engineering roots to the sports he loved, shaping sails, fins and boards and inventing an array of instructional tools that are employed worldwide today. In the eighties, when windsurfing was primarily geared towards adults, Tinho created lightweight aluminum booms and small sails so his children, John and Michael, could windsurf. He shaped wide boards for instruction long before they were ever mass-produced by Europe's board manufacturers. Today,Tinho continues fueling his passion for the ocean by shaping and testing his designs for windsurfing and stand up paddle surfing.
In 2015 – Tinho's newest designs – the KONA Hula board along with a line of recreational sails – will come to market. The Hula's innovative design will not only help people learn more easily but is a great planing board for the 'big boys' of windsurfing.
The Calema Midwinters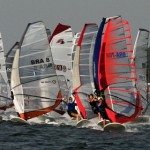 Calema held the first Midwinters event in 1985 and have held it every year (except 1987 when it was moved to Tampa as part of a national tour and in 2011 when Susie was heavily involved in nursing school) 2010 celebrated the 25th Calema Midwinters Windsurfing Festival and 2015 was the 29th! The Calema Midwinters has grown to be the largest US Windsurfing event and one of the longest running events in the sport. It is a unique event, where Pros, Olympic hopefuls, top amateurs, youth and novice racers all come together in one venue for great racing with a "family reunion" feel.
Fulfillment of a Dream
In 1998, after many years of negotiations with the County, Calema was able to fulfill a lifetime dream of building a facility on site at Kelly Park. Their waterfront facility has gained worldwide recognition as a premier windsurfing site and put Brevard County on the map as a premier travel destination for windsurfing and other watersports.
Calema Now and in the Future
Now 33 years later, Calema has all the complementary "non-smoking" sports of Windsurfing, Sailing, Kayaking and the newest addition Stand-Up Paddling (SUP).
Many things have changed since our beginning in 1984, but not our love for the sport and the desire we have to share it with others.