Since the beginning of Calema – we have been a Family business. At Calema, we believe in the saying that "A Family that Plays together Stays together". We want all ages to experience the Sports that we, and our children, have grown up loving. New for 2017 – Calema is taking that desire to help build stronger families by offering new FAMILY CAMPS. We are hoping that, if successful, many more opportunities will be coming. Here are just a few upcoming Camps and other ideas to get your family – OFF the couch and ON the water – TOGETHER!
USA Junior Olympic Windsurfing Festival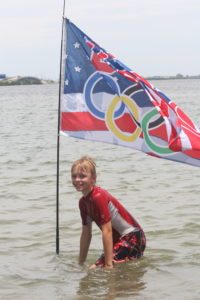 The USA Junior Olympic Windsurfing Festival is being held – Saturday, June 24th. It is part of a group of events supported by US Sailing and the Olympic Committee in an effort to introduce more children to Sailing and Windsurfing – Olympic Sports. The Calema event – now in its 18th year – features WINDSURFING! We offer a "taste of windsurfing" to kids ages 8-17 – where no prior experience is required. It is a 'mini-lesson' on the basics of windsurfing with the hope of inspiring them to want to learn more as they grow. Registration is required for both the racing events AND the "Taste of Windsurfing". TASTE OF WINDSURFING HAS ONLY A FEW SPACES LEFT (UPDATE 6/24/17)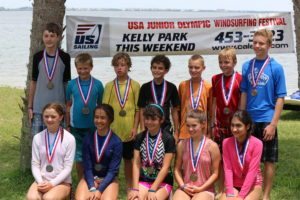 We also offer racing – for those children that can already windsurf. Racers have a chance to win Junior Olympic Medals – Gold, Silver and Bronze in various skill categories. Those children who have had even just one summer camp (or other previous experience) can compete. Cost is only $25/racer and includes lunch and all the windsurfing equipment for use to race. Ages 8-17.
On the land – we offer a chance to build your own mini-boat – with the only propulsion being the wind. Boats will race down special rain gutters and the only rule is that the boat must fit in the racing tubes and be propelled by 'natural' wind – rather than help from the racers…. Open to all ages…. FREE to participate.
SCHEDULE: Check in: 8:15-8:55am // FREE "Taste of Windsurfing": 9:30-11AM // RACING: Begins 11:30am // ALL DAY – Build a Boat – land activities for all ages.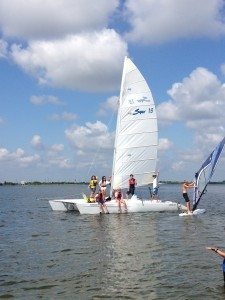 FAMILY KAYAKING/SUP ISLAND ADVENTURE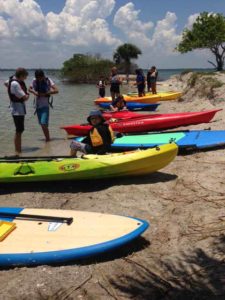 Calema is offering a Family Kayaking/SUP Adventure for Family GROUPS! Two dates coming up — JULY 3rd & JULY 5th, 2017. If those dates don't fit your plans — give us a call and let us know when you want to go. Family Reunion?? Do something they'll remember for years to come! It's a fantastic way to come and build memories WITH your children! Campers will paddle to a nearby island, build a fire, cook lunch and s'mores (provided) over that fire, explore the island for wildlife and swim with dolphins and manatees (if they decide to grace us with their presence) and most importantly have FUN with your children. Kids as young as 4 can join their parents on a fun and memorable paddle.
Planned dates: July 3rd / July 5th OR call to arrange your own date! It will be a full day – meeting at Kelly Park at 9am – and returning between 1:30-2pm. Cost is $75/adult and $50/child (ages 8-17) $25/child (ages 6-7) FREE for children ages 4-5. The Adventures include All Kayak/SUP gear and life jackets and it includes LUNCH on the island.
**Participants need to bring Drinking Water, Sunscreen, T-shirt or rash guard for sun protection, and Water Shoes (for on the island).
FAMILY WATERSPORTS CAMP
Our First Camp was APRIL 10, 12, 14, 2017 — BUT if you have a group of 5 or more that would like to schedule a FAMILY CAMP – just give us a call!!– For children ages 8+ and their parents, too! Modeled after our Summer Camps, each day is filled with learning. Camp will be held M,W,F – 9am-3pm and includes Windsurfing & Sailing each day! All the equipment for the camps is provided. No prior experience is necessary in either sport. Campers will Windsurf in the morning, then after a lunch break (which is included), the afternoon will take advantage of the breezes and campers will go Sailing! During the week, each camper will be able to experience small monohull boats and also larger multihull catamarans, including our "family size' Ataroa – a 23′ Stiletto. Remember that the family that plays together stays together! Be a part of our Family Camp and build lasting memories with your kids while learning lifelong skills. The 3 day schedule leaves time for Family to visit Kennedy Space Center or go to the beach or even a day at the theme parks – your choice. Cost is $300/adult – $250/child (1st & 2nd) – $200 each addt. child. The fees include ALL the Windsurfing and Sailing Gear! All you need to bring is a Ready to Learn Attitude, Water or Gatorade, Towel, Sunscreen, T-shirt or rash guard and we will take care of everything else! You can add on a Tuesday or Thursday Family Kayaking/SUP Island Adventure at a reduced rate (optional).