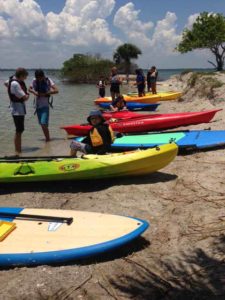 Spring Break is almost here and there is no better time to build lasting memories with your kids. Calema is offering a Family Kayaking/SUP Adventure for two different dates to coincide with our Family Watersports Camp during Spring Break! Campers will paddle to a nearby island, build a fire, cook lunch and smores (provided) over that fire, explore the island for wildlife and have hermit crab races, swim with dolphins and manatees (if they decide to grace us with their presence) and most importantly have FUN with your children. Kids as young as 4 can join their parents on a fun and memorable paddle.
Choose either Tuesday or Thursday for your adventure. It will be a full day – meeting at Kelly Park at 9am – and returning between 1:45-2:30pm. Cost is $75/adult and $50/child (ages 6-17) – if purchased on its own, or $50/adult and $35/child (ages 6-17) if purchased WITH the Family Watersports Camp. The Adventures include All Kayak/SUP gear and lifejackets and it includes LUNCH on the island.
**Participants need to bring Drinking Water, Sunscreen, T-shirt or rash guard for sun protection, and Water Shoes (for on the island).